The final inductee to HD Bulldog Athletic Hall of Fame is the FIRST Hampton-Dumont Girls Team State Champions – 2008 HD Bulldog Girls golf team, coached by head coach, Carlene Bergeson and assistant coach, Cindy Wittmer. The team captured the 2A State Championship at the American Legion Golf Course in Marshalltown with a record of 38/0. No team in 2A had a better record than the Bulldogs, but the team's record wasn't anywhere near that a few years before. In 2006 their record was 18/13/2 and in 2007 their record was 28/11. In 2008 they played several meets in snow and rain. Coach Bergeson was awarded IGCA 2A golf coach of the year. She always reminded them about working on the short game, chipping and putting if they want to drop their score. By always having any of the six players counting for the low four scores, it really helped our team stay consistent. Telling them to never look at their total score, every hole is a new score. Everyone is going to have a bad hole, its' just getting the ability to move on and not have 3 bad holes. The team consisted of five seniors: Christy Wittmer, Abby Lukensmeyer, Melinda McDowell, Sarah Davis and Anna Showalter. One junior: Erin Drew and two sophomores: Jill Winters and Jodi Varrelman and three freshmen: Mackenzie Wearda, Gabby Clark and Megan Logan. The six people who qualified with the lowest averages on the team were: #1 Christy Wittmer, whose average was 46 as a freshman and 39 as a senior. #2 Abby Lukensmeyer with an average of 45 as a senior. #3 Melinda McDowell was proof of spending extra time on the driving range and golfing in the summer by getting her average of 68 as a freshman down to 49 at state as a senior. #4 was Erin Drew with an average of 53 and #5 Sarah Davis with an average of 57 and #6 was Jill Winters with an average of 61 as a freshman. At State, Christy Wittmer placed first individually with 158 for 2 18 hole scores of 81 and 77. Abby Lukensmeyer was our #2 golfer with scores of 94 and 82. Erin Drew was our #3 golfer with scores of 99 and 100. Our #4 golfer that counted at state was Melinda McDowell with scores of 102 and 99. Our #5 golfer was Jill Winters and our #6 golfer was Sarah Davis. They had a combined team score of 734 at State and 2nd place team was Davenport Assumption with a team score of 754 and 3rd place team was Beckman with a team score of 760 and 4th place team was Clarion-Goldfield with a team score of 766.
The next inductee is Coach Carroll Rugland. Coach Rugland came to Hampton High School from Montezuma in 1973. His girls basketball teams there had amassed 6 state tournament appearances, 2 state championships, and had recorded an 89 game winning streak which is still a state record today. His Bulldog girls basketball program was also a powerhouse, with 7 state tourney appearances, a state runner-up finish in 1992, and 10 North Central Conference titles. In 1986, Coach Rugland was named the State of Iowa High School Coach of the Year and he was also selected as the National High School Coach of the Year in '86 as well. Carroll was inducted into the Iowa Girls High School Athletic Union Hall of Fame in 1991 and into the National High School Athletic Coaches Association Hall of Fame in 1998. In his 41 year career coaching girls basketball, he accumulated a record of 735 wins and only 245 losses. This career wins total is 5th all time in the Iowa girls state record books. Coach Rugland passed away August 16, 2011 at the age of 76. Truly a coaching legend, we welcome Coach Carroll Rugland to the Bulldog Hall of Fame.
The 2nd member of the HOF class of 2022 is Jerry Gray. Jerry graduated in 1985 and earned 12 varsity letters in his 4 sport career. In track Jerry earned 3 letters and ran at the Drake relays in 4X100 as a Freshman. In Football, Jerry was 1st team All-NCC as a junior and senior and earning Special Mention All State his senior year. Jerry rushed for nearly 1400 in those 2 seasons. Jerry also excelled at baseball, he earned 2nd team All NCC as a sophomore and 1st team All NCC as a junior and senior. He also earned 1st team All District and All State special mention both his Junior and Senior years. He is still 4th all time in career batting average with a .426 average. He was the first player to hit for over .400 for 3 straight years during the Bill Hand era. His basketball career was just as stellar. He was 2nd team All NCC as a sophomore and junior and was an Unanimous 1st team All NCC as a senior, he also was Special Mention All State that same year. He was the starting point guard on the 1984 State Runner Up team, where he was the 3rd leading scorer for the tournament and helped lead the Bulldogs to a 17-3 record and conference championship the following year. He is 3rd on the all time assist list with 300 and holds the school record for season FT% at 86%. Jerry was a starter in the Dr. Pepper North/South All Star game at the end of his senior year and was 2nd leading scorer with 13 points. Jerry attended Waldorf Jr. College to continue his basketball career, where he started both years and averaged double figures in both of his years. Jerry got his AA degree from Waldorf, his BA from UNI and his MBA from Dallas Baptist University. He has worked for 21 years at Brokers Clearing House in Des Moines where he is currently a Senior VP.
The first Bulldog Hall of Fame inductee for the class of 2022 is Laura Rowen Sherratt. Laura graduated from Hampton Dumont in 2003 and earned 12 varsity letters during her 4 sport career. In track, Laura qualified for state for 3 years in the high jump and also the shot-put her sophomore year. She holds the 4th best throw for the shot put at HD/CAL with a throw of 37'.6.5" and is tied for the record high jump at 5'6". She was 3 time 1st team All NCC in softball and 3 time 1st team All NCC in basketball along with 3rd team All-State basketball her senior year. She finished her basketball career as a 1000 point scorer. Laura made the most noise on the volleyball court, 2 time 1st team All-NCC and 1st team All-State her senior year in 2003. She is 1st in career kills with 653, 1st in season blocks with 139, 2nd in career blocks with 254, 3rd all time in career serving aces with 117 and tied for 1st with season serving aces at 63. After graduation Laura went to the University of Northern Iowa to continue her volleyball career as an outside hitter. In 2006 she was 1st team All Missouri Valley Conference, she posted the only 20/20 match which is 23 kills and 23 digs, set a single season attack record with 1,274 attempts, which is still 6th all time at UNI. In 2007 She was 2nd team All MVC and made the MVC All Tournament team. Laura is 7th in career kills at UNI with 1,386 and 7th all time with 1,145 digs. She was the 5th athlete at UNI to record 1000 career kills and digs. Laura is currently running an At-Risk program at Newton Senior HS since 2012. Her and her husband Tony and their daughter Rowen reside in Newton Iowa.
The first Bulldog Hall of Fame inductee for the class of 2021 is Diane (Bell) Schmelzer. Diane graduated in 1982 and won 13 letters in her career. She is a rare 5-sport letterwinner. An outstanding sprinter and long jumper, she won 4 letters in track and competed at the state track meet in the 100-yard dash. Diane played guard in the six-player girls basketball era and was 2nd team all NCC as a junior and a unanimous 1st team all conference selection as a senior. She led the Bulldogs in steals and in rebounds her senior season and was named 5th team all state. Diane earned 4 letters in softball and as a sophomore she was 2nd team all conference. She was a unanimous 1st team all conference selection in both her junior and senior seasons on the diamond. Diane had a .472 batting average as a senior and a.412 career batting mark. She was named 5th team all state for softball after her senior campaign. Diane played both basketball and softball at Ellsworth Community College following her high school career. She had to make the transition to the 5 player women's basketball game in college and did it very successfully as she averaged 10 points a game in her second year at Ellsworth. She was a JUCO all conference selection in both sports and was named Ellsworth's outstanding athlete for the 1983-84 academic year. Diane and her husband, Scott, live near Wichita, Kansas where they raised 3 daughters. They have 2 grandchildren. Diane has been a 1st grade teacher for 33 years and added the reading specialist role to her duties this year. One of the best all around girl athletes in Bulldog history, we are proud to welcome Diane (Bell) Schmelzer to the Hall of Fame.
This 2021 Hall of Famer graduated in 2002. Misty (Dirksen) Sahagian won 14 varsity letters in her 4-sport Bulldog career. Misty received all conference recognition in volleyball, basketball, and in softball. In 2001, she was named 4th team all state in softball as well. She garnered the most recognition for her accomplishments on the track, with 4 varsity letters alongside all conference, all district, and all state honors. At the 2000 state track meet, Misty was the champion in the 400 hurdles. She still holds the school record for the 400 hurdles and as a member of the all time best distance medley relay team. Misty was an honor roll student, was inducted into the National Honor Society, and was chosen for Girls' State in her well-rounded high school career. Misty went on to Georgia Tech University where she won 2 letters in track and also competed in cross-country. She was on the list of top track performers in Georgia Tech's conference, the ACC, in 2006. Today Misty and her husband, Steve, live in Boston, Massachusetts where she works as a paralegal for an environmental law firm. We are pleased to welcome 4-sport star and state track champ Misty (Dirksen) Sahagian to the Bulldog Hall of Fame.
The next former Bulldog to be inducted into the Hall of Fame tonight is Ryan Boyington. Ryan was a member of the class of 2000 and won 9 letters in his high school career. In football, Ryan was a first team all state selection in 1999 and was first team all district for both offense and defense in that season. He was selected to play in the 2000 Shrine Bowl all-star football game. He set the school record for interceptions in a single season and still holds the career interceptions record. He was chosen for 2nd team all conference recognition in basketball in 2000. Ryan was named elite all state in track after both his junior and senior seasons. He won the 400 hurdles at the Drake Relays and at the state track meet in 2000, after runner-up finishes at Drake and at state in 1999. Those 2-second places in 1999 were the only 400-meter hurdle races Ryan lost in his last 2 track seasons. At graduation, Ryan held 4 Bulldog school records in track. He continued his track career at Iowa State, lettering 4 times, and he was all Big 12 three years in the 400 hurdles. Ryan was a captain of the Cyclone track team in 2003 and 2004 and he was named academic All-American for the 2002, 2003, and 2004 track campaigns. Ryan lives in the Des Moines area now with his wife Nicole and their children Brooks and Elle. He is a partner in the Storey Kenworthy Company as well as having co- ownership of a hunting products and apparel company. One of the best to ever compete here at Bulldog Field, we are very happy to induct Ryan Boyington into the Hall of Fame.
Steve Deike is the final Hall of Fame inductee for the 2021 group. Steve was a state-wrestling champion as well as a 5th place finisher and he won all conference honors in football and baseball during his prep career at Plainfield. He wrestled collegiately at Wartburg where he was a 2 time all-American, was a 2-time team MVP for the Knights, and was named the outstanding wrestler in the Iowa Conference. He was inducted into the Wartburg Hall of Fame in 2004. Steve began his 33 year teaching and coaching career here at Hampton in 1978. He served as an assistant high school wrestling coach for 3 years, was the Bulldogs' head wrestling coach for 14 seasons, spent 26 years as a junior high football coach, and 3 years coaching junior high wrestling. He was chosen for the Don Taft junior high football coach of the year in 2001. His record as the head wrestling coach was 106-68-2 with 10 consecutive winning seasons. He is the school's all- time leader in wrestling coaching wins. His teams won 3 sectional titles, 3 North Central Conference team championships, and 2 district titles. He was chosen the district wrestling coach of the year 3 times. Steve coached 3 of the 5 state champion wrestlers in school history and had 34 state qualifiers during his tenure. To build the Bulldog program, Steve started the Basement Bunch elementary wrestling program, started the H-D youth tourney, and initiated the first H-D Duals high school tourney. He has also taken an active role in several community projects, including chairing the committee that helped get the weight room addition built onto the high school, chairing the project to create the Admiral Leahy exhibit at the Franklin County Historical Museum, and serving on the Harriman-Nielsen historical farm board. Steve and his wife, Denise, raised their family here in Hampton. Their daughter, Brooke, and her husband and family live in Omaha, and their son, Cole and his wife and family live in Des Moines. Truly a great coach and wrestling program builder, we are honored to induct Steve Deike into the Bulldog Hall of Fame.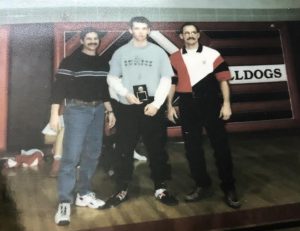 Tadd Jones graduated in 1998 and he earned 13 varsity letters in his 4-sport career. In football, Tadd was a 3 time 1st team all district linebacker and was named 1st team all state as a linebacker after his senior season in 1997. He was chosen to play in the Shrine Bowl all-star football game after his graduation. Tadd won 4 letters in wrestling and won a conference championship as well as qualifying for the state-wrestling tourney twice. He was captain of the Bulldog wrestling team both his junior and senior years. His career record in wrestling was 118-22; at the time this was the school career record for wins. In baseball, Tadd was 2nd team all NCC as a sophomore and 1st team all conference both his junior and senior years. He was a 1st team all region choice for those two seasons as well. After high school, Tadd played football in college. He earned 2nd team All American honors at then Waldorf Junior College and won 2 letters at the University of South Dakota. He was a 1st team all region choice as a Coyote during his career. Tadd and his wife, Leigha, and their 2 daughters live in Hampton where he is an owner/operator of a trucking business. A Bulldog star beginning with his freshman campaign in wrestling and carrying on through the rest of a great 4 sport career.
Sarah (Harms) Schmitz is the next new Bulldog Hall of Famer. She graduated in 2004 and was one of the valedictorians for her class. Sarah was a 4-sport athlete during her high school career, earning 11 letters. She received all conference recognition in volleyball twice and in softball once. Her most outstanding accomplishments were in track where she was an outstanding discus thrower and shot putter for the Bulldogs. She won the NCC shot put title in2002 and qualified for the state track meet in the shot put that year too. 2002 was the first of 3 appearances at state for Sarah in the shot put event. 2004 was a special season for Sarah. She won the Drake Relays shot put event that year and placed 2nd in the shot at the state meet, and she was named elite all state for track. After graduation from Hampton-Dumont, Sarah went to UNI and was a part of the Panther women's track team for 4 seasons. She was a place winner at the Missouri Valley Conference meet in the shot put 3 different times, including a runner up finish at the outdoor meet in 2009. She qualified for the NCAA regional meets in 2008 and in 2009. Sarah was named to the MVC Scholar Athlete Team in 2009. Sarah ranked 2nd on the all time UNI shot put list when she graduated in 2009. Today Sarah and her husband, Christopher, and their 2 children live in Albuquerque, New Mexico where she is a math teacher at Highland High School. Congratulations Sarah Harms Schmitz on your induction into the Bulldog Hall of Fame!
alexa (mennen) hoeltermann
Alexa (Mennen) Hoeltermann, a member of the class of 2006 at Hampton-Dumont, played 4 sports in her Bulldog career, earning multiple letters in volleyball, basketball, track, and softball. Alexa had a tremendous career in basketball. She ranks in the top 10 all time in school history in 6 career stats categories, including scoring 1572 points, which is 2nd a ll time for the school in 5-player basketball. She led the North Central Conference in scoring her sophomore, junior, and senior years. Alexa also led the NCC in rebounding and blocked shots in her junior and senior campaigns. She holds the school 5 player single game scoring record with 43 points against Iowa Falls-Alden in her sophomore season. She was all conference in basketball 4 times: 2nd team as a freshman in 2003 and 1st team her sophomore, junior, and senior seasons. She was all state in basketball 3 times: 2nd team in 2004 and first team all state in 2005 and 2006. She was named the Globe Gazette girls basketball player of the year in 2006. Alexa continued her basketball career at UNI where she earned 3 letters. To date, she is one of only 3 Bulldog girls' basketball players to receive a division-1 scholarship to play in college. After her career at UNI, Alexa played basketball internationally with the Turn-Klubb in Hannover, Germany. 16. Alexa and her husband, Phillip, live in Cedar Falls with their 2 children. She is a stay at home mom and also works part time for their church. Let's welcome one of the all time hoops legends at H-D, Alexa Mennen Hoeltermann, to the Bulldog Hall of Fame.
Paul Schipper graduated from Hampton High in 1952. Paul was a 3-sport athlete during his career, playing football, basketball, and track. During the 1951 football season, Paul gained over 1000 yards rushing for the Bulldogs. He was named 1st team all conference that fall. He earned 1st team all state honors in football in 1951 from the Associated Press. The local sportswriter compared Paul to a Sherman tank in terms of his ability to run over defensive players that were in his path. Paul also received first team all conference recognition in basketball his senior year and 3rd team all state recognition as he led the Bulldogs to a 15-7 record in that campaign. At the 1951 district track meet he set a meet record in the football throw event and his 800-meter time of 2:07.00 in 1952 is still one of the top 15 times in the event in school history. Paul went on to the University of Iowa after high school. After some time at Iowa he served in the military and played on the base football team at Ft. Riley, Kansas during his hitch. Paul worked in the wholesale business for much of his post- military life and eventually started his own wholesale company. Paul passed away in March 2011 at the age of 78. We are proud to welcome Paul Schipper, a 2 sport all stater, to the Bulldog Hall of Fame.
Jim Tucker, a member of the class of 1958, had an outstanding track career. In his junior season, Jim and 3 teammates won the medley relay title at the state meet with a then record setting time. In his senior season, Jim set a school record in the 1600 meters with a time of 4:24.90. This record still stands today as the best time ever in this race for a Bulldog runner. Jim also ranks in the top 10 all time for the high jump in the Bulldog record book. In 1958, he placed 2nd at the Drake Relays in the mile run. His time that day in the mile was the 5th fastest time ever in Iowa high school history. He won 3rd place in the high jump at Drake the same year. A highly anticipated duel at the state track meet with his mile-racing rival at West Des Moines never materialized, as an illness prevented Jim from running his specialty at the state meet. Jim went on to run track and also cross country at the University of Iowa following his prep career. He was an All American in cross-country at Iowa in all 3 of his varsity seasons. In his senior year, he led the Hawkeyes to the Big 10 cross-country title with his first place finish at the Big Ten meet. After earning his bachelor's and master's degrees at Iowa, Jim was a full time reporter for 6 years. He moved to California, and was a journalism professor at Fresno State University for 30 years. A media service award named for him is presented by Fresno State each year at their graduation exercises. Jim and his wife have 2 children and in retirement he still serves as a writing consultant. We are proud to induct one of the all time great Bulldog track runners, Jim Tucker, into our Hall or Fame.
Coach Dave Hanneman started his career as a secondary language arts teacher and head boy's basketball coach at Wall Lake High School in 1973. He came to Hampton in 1976 and was the freshman boy's coach for 2 seasons. He took over the head boy's basketball position in 1978. His 8-year tenure as head coach was the greatest boys basketball era in school history. Dave led his teams to the state tourney 3 times. Two of his state tourney teams reached the 2A championship game and recorded runner-up finishes in 1979 and 1984. Coach Hanneman's teams won the NCC title 3 times: 1978-79, 1981-82, and 1984-85. With 118 victories in 8 seasons, Dave holds the all time school record for most wins, highest winning percentage, and most conference wins by a boy's basketball coach. His teams hold school records for most wins in a season, most conference wins in a season, best winning percentage, most points scored, and for the best defensive average as well. His peers named Coach Hanneman the district coach of the year twice: in 1979 and in 1984. Dave left Hampton in 1986 to become the high school principal and athletic director at Paton-Churdan. In 1987, Dave relocated to Center Point and was the principal at Center Point-Urbana High School for 20 years. All in all, Dave had a 34-year as an educator in Iowa where each day he was an outstanding role model for his students, his staff, his community, and especially for all the athletes that he coached. Dave and his wife, Carol, now live in Marion. They have 3 children and 12 grandchildren. There is no doubt that we are inducting the greatest boys basketball coach in school history, 2020 Bulldog Hall of Famer Dave Hanneman.
Bill Weeks was born in Hampton, Iowa on October 20, 1929. He was the youngest of three children born to Dr. and Mrs. Uzziel William Weeks and has two sisters, Mary Catherine Weeks and Mrs. Jane Young. Weeks graduated from Hampton High School in May, 1947. As a student athlete, Weeks earned three football letters, three basketball letters and two track letters. On the gridiron he was a 3-year starting quarterback earning all-state honors as a senior. That same year he was voted team MVP on Hampton's last undefeated and untied football team in the Fall of 1946. On the basketball court, Weeks was a three-year starter at forward and guard while earning all-conference honors in his junior and senior years. Weeks also excelled in track and field. He was a low hurdler and 440 runner and set conference and district records in the 200-yard low hurdles. Upon graduation Weeks received a primary appointment to the United States Naval Academy at Annapolis, Maryland. He decided however, to attend Iowa State University for one year to prepare for the Naval Academy. While enrolled at ISU he was prevailed upon by Abe Stuber, ISU's football coach, as well as Helen Patricia Hussey (ISU Class of 1950) who later would become his wife, to stay and complete his college career at Iowa State University. Weeks attended Iowa State from 1947-1950 and played on the ISU freshman football, basketball and track teams, achieving freshman numerals in football and basketball. Weeks became the starting quarterback at Iowa State from 1948 to 1950. He was an All- Seven Conference Quarterback choice in his junior (1949) and senior (1950) years; finishing third in the nation in total offense in 1950. Weeks set Big Seven and Iowa Stat records for passing yardage and completions and was selected Iowa State "Athlete of the 1949-1950 School Year". In 1968, he was voted #1 All-Time Quarterback on Cyclone All- Star team by former ISU players and coaches. He graduated from ISU with honors, Cardinal Key, in May of 1951, with a Bachelor of Sciences degree in Industrial Economics. Eight days after graduation Weeks commissioned into the Marines Corps. He represented ISU in the East-West Shrine Game in San Francisco on December 31, 1950; as well as in the Hula Bowl All Star Game in January 7, 1951; and was set to play in the Chicago Tribune All Star Game, August 1951, but was called to active duty by the Marine Corps and was forced to miss the game. In the Spring of 1951 Weeks was drafted by the Philadelphia Eagles and planned to play professional football upon completion of his active duty tour in the Marine Corps. While on active duty status Weeks was able to continue with his football career playing quarterback for the Quantico Marines in 1951 and with the Camp Lejeune Marines in 1952. In 1952, while still on active duty Bill married his college sweetheart, Helen Patricia (Pat) Hussey. After serving his active duty tour and looking forward to playing football for the Philadelphia Eagles, tragedy struck when he and Pat were involved in an automobile accident that damaged Bill's Achilles tendon and ended any possibility of a professional football career. Weeks returned to Iowa State in 1953 and worked as a graduate assistant coaching the ISU freshman team; while attaining his Master of Science degree in psychology. He graduated in 1954, with Psi Chi academic honors. Upon completion of his master's degree, Weeks decided to give high school coaching a shot and became the Head Football Coach at Grinnell (Iowa) High School, a Class A school playing in a Class AA conference. He thought he would coach there for a few years before heading off to law school. His first year record was 4-5, but it marked the first time in 10 seasons that Grinnell had won a conference game. Shortly thereafter, he and Pat gave birth to the first of their five children, Susan Mary Weeks. His second year record at Grinnell was 5-3-1. After his second year, Weeks was lured to the University of New Mexico by friend and Head Football Coach Dick Clausen. Weeks was ends coach and chief scout on Clausen's staff in 1956 and 1957. During this period the Weeks family welcomed the addition of Katherine Ann and Thomas William into their family. In 1958, Coach Clausen left UNM to become the Athletic Director at the University of Arizona and Marv Levy took over as Head Coach and Weeks became the backfield coach. During 1958, the Weeks family welcomed the birth of their fourth child, James Michael. Two years later in 1960, Weeks took over the Head Coaching spot after Coach Levy accepted the Head Coaching position at the University of California. From 1956 -1959 the Lobo football team racked up a 22-18 record. When Weeks took over the Lobo football program in 1960, he was 31 years old and the youngest coach in UNM's history. In 1961, the Weeks family was once again blessed with the birth of their fifth child, John David. After starting his head coaching career with a 5-5 season, Weeks and the Lobos tallied the most successful four-year run in UNM's history. Between 1961 and 1964, the Lobos won 29 games against 12 losses and one tie. In 1961, New Mexico finished 7-4 and won the Aviation Bowl in Dayton, Ohio with a 29-12 victory over Western Michigan. The Lobos won the Western Athletic Conference titles in 1962 and 1963 and tied for the crown in 1964. Weeks compiled a record of 40-41-1 as head coach between 1960 and 1967; winning three conference championships, more than any other head coach in Lobo football history; and remained the coach with the school's most wins until Coach Rocky Long, 1998 to 2008, surpassed him in September of 2005. When asked to reflect upon the Weeks era, Coach Long commented that, "Every Lobo head coach to follow Bill Weeks has been trying to reach the level that his teams attained. Winning three straight conference championships, no matter what era, is extremely difficult". At the end of the 1967 season, Weeks decided to forgo coaching in favor of focusing on setting down solid roots and raising their young family of five children in a stable environment. Weeks remained at the University of New Mexico where he served as the Director of Development, Director of External Affairs and the Executive Assistant to the President. He retired from the University of New Mexico in June of 1986. Weeks was inducted into UNM's Athletic Hall of Honor in 2005 and became an Honorary UNM Letterman. His 1961 team was inducted into the Hall of Honor in 1990. Bill Weeks was also inducted into the New Mexico Sports Hall of Fame in 1997. Of all the kind remarks that have been made to the Weeks family over the years, one of the kindest remarks and one that Bill would most like to be remembered for as a coach, came from George Friberg, Lobos quarterback from 1958-60, who knew Bill as an assistant, as well as a head coach, when he remarked , "He was very cerebral. He was a very, very smart person and understood the offensive side of football. He was quite a gentleman. He wanted that in us and conducted himself that way." Bill and Patricia Weeks celebrated their Golden wedding in July 2002. Together they raised five children and have fourteen grandchildren. In 1981, Weeks retired from the USMCR with the rank of Colonel. Bill Weeks passed away May 2, 2006.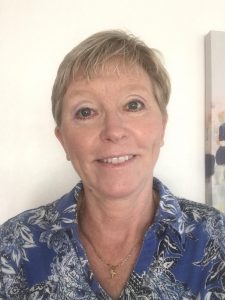 Jane graduated from Hampton High in 1976. Jane was truly an outstanding basketball player and golfer during her career at Hampton. She received all conference and all state honors in basketball, including being a unanimous first team all conference player her senior year. That same season she was chosen for first team all state recognition. The Bulldog girls' basketball teams qualified for the state tourney twice during Jane's career as a 6 on 6 forward. The Iowa Girls Athletic Union used to sponsor a statewide individual free throw contest in conjunction with the tourney games that were played. Jane made it to the state level in that contest in her sophomore, junior, and senior seasons. Jane's golf career featured her team advancing to the state meet 3 consecutive years, 1974, 1975, and 1976. After her graduation from high school, Jane continued her basketball career, first at William Penn College for 2 years and then at University of Iowa for her final 2 campaigns. Jane was the Hawkeye team captain in her final season at Iowa. Jane currently lives in Fort Worth, Texas. She recently retired from a career in education, having served as a junior high history teacher and coach with stints in Illinois, Muscatine, Iowa, and the Fort Worth, Texas suburbs.
Jason graduated from Hampton High School in 1991. Jason was a 4-sport athlete in high school, earning letters in football, wrestling, track, and baseball. He achieved all conference and all state recognition in football. He was 1st team all conference in baseball in both his junior and senior seasons. He competed at the state track meet as a junior and a senior as well. Jason's greatest accomplishments happened on the wrestling mat. He was a 4-time letter winner for the Bulldogs, a 3 time state qualifier, a state runner-up in 1989, and the state champ at his weight in 1991. Jason continued his education and wrestling career at UNI from 1991-1996. He earned 4 letters at UNI, was team captain his senior season, and qualified for the NCAA championship-wrestling tourney in both his junior and senior years. Jason and his wife Tish now live in Cedar Falls with their 3 children. He is the principal at Cedar Falls High School and officiates college wrestling in his spare time. He has reffed meets in the Big 10 and also has worked at the National Championship meet recently.
Ross is a 2008 graduate of Hampton-Dumont. Ross was a 3-sport athlete in high school and earned 4 letters in each sport during his career. In wrestling, Ross advanced to the state tourney in 2007 and 2008. He placed 5th at state wrestling in 2007. In track, Ross threw the discus and ran on the Bulldog sprint relay teams. He competed at the state track meet all 4 years of his school career. Ross had a tremendous football career at H-D, setting numerous school records as a running back and linebacker. Ross was named to the all-district teams, was chosen 2nd team all state in 2006, and after his senior campaign he was selected 1st team all state and was named the class 2A MVP by the Des Moines Register. Ross went on to attend South Dakota State University after his high school graduation, where he continued his football career. As a linebacker, he was picked for the 1st team all Missouri Valley Conference squad in 2013 and was also named 3rd team all- American that year. Ross holds the single season record for the most tackles at SDSU. Ross and his wife, Tara, are now living in Prescott, Wisconsin. Ross works as the assistant superintendent at the National Golf Links course in Red Wing, Minnesota.
The first team to be chosen for the Hall of Fame is the 1926 Hampton Bulldog girls' basketball team. This team won the state championship with a 27-0 won loss record. They outscored their opponents 1235 to 334 during their season. In the county tournament, they defeated Hansell 100-2. Their closest game during the regular season was against Iowa Falls, a team they defeated 3 times during that campaign. The state tourney was played here in Hampton, with 3 teams from different parts of the state competing with the Bulldogs. Hampton won over each of these teams by 18, 34, and 30 points to claim the state title. The coach of this team was Julia Hemenway. She had 4 future Iowa Girls Athletic Union Hall of Famers on her squad: Deone Gibson, Leona Brandt, Hazel Smith, and Mabel Kline. The other members of the team included captain Genevieve Francis, Veone Peterson, Harriet Webb, Ethel Schaefer, Imogene Ferris, and Isabel Wood. Once again, the first team to be inducted into the Bulldog Athletics Hall of Fame is the 1926 girls basketball state champs.
Year of graduation: 2007 Family information: Married Ben (Smith) in December of 2018. Currently teaching 8th Grade Science at Ames Middle School and coach 8th grade volleyball, track & field, and softball. Your athletic accomplishments & honors (all conference, all state, school records, etc.) Volleyball 2005-2006 (2) 2005: Honorable Mention Basketball 2006-2007 (2) 2005-2006: Honorable Mention 2006-2007: 3rd Team Track & Field 2004-2007 (4) 2004-2007 2005-2007 Shot Put: 43' 5" Discus: 127' 6" Softball 2005-2007 (3) 2006: 1st Team Infield & All-District Team 2007: 2nd Team Infield State Champion: Shot Put, 2006 Drake Relays Runner-Up: Shot Put, 2006 North Central Conference Champion: Shot Put, (4 years) 2004-2007 Post graduate athletic accomplishments / career: After redshirting for 1 year, competed for the University of Northern Iowa Track & Field Team for 4 years. Qualified for the NCAA Division I West Preliminary Rounds in 2011 & 2012 in the weight throw. Graduated in 2012 on the All-time UNI record list as: #2 Weight Throw, 19.19, (62' 11.5") #2 Hammer Throw, 58.01m (190' 4") #4 Outdoor Shot, 14. 78m, (48' 6") #2 Indoor Shot, 15.16m (49' 9") Competed in first Sprint Triathlon this past summer, finishing 3rd in the Female 30-39 age group.
Cole graduated in 1989. He lettered in 5 varsity sports in his high school career: 3 times in track & football, 2 times in basketball, baseball, and golf. Cole won 2 individual titles at the 1989 Class 3A state track meet and also ran on a state championship relay team. At one time, Cole held 3 state track meet records and also held 5 school records in track. At the inaugural Iowa Games in 1987, Cole won gold medals in the 100 meters, 200 meters, and the long jump. In his Bulldog football career, he was voted all conference 3 times, all state 2 times, and was academic all state in football in 1988. He was also an all NCC baseball player in 1989. Cole went on to the University of Northern Iowa after high school and continued his track career there. He was a 4 year letterwinner in track at UNI and was the team captain his junior and senior years. Cole won numerous individual and relay conference track championships while in college and left UNI with records in 2 relays. Cole now lives in Denver, Colorado with his wife, Ellen, and their 2 children. He is a CPA and has worked in public accounting and professional services for the past 26 years. Remembering a stellar career in sports and in the classroom, we welcome a great Bulldog, Cole Honeck, to the Hall of Fame!
Hall of Famer Dan DeVries from the class of 1980. Dan lettered in cross-country during his high school career, but it is in basketball where he made school history in what is the greatest career of any Bulldog player. Dan lettered 4 times in basketball, and was selected 3rd team all conference after his sophomore season and voted 1st team after both his junior and senior seasons. He also received all state recognition after both his junior and senior seasons. During his junior campaign, the team qualified for the state tourney for the first time in school history. After a runner-up finish by the Bulldogs, Dan was named captain of the all tournament team at state that year. His most noteworthy accomplishment as the 2A tourney MVP was that he scored and rebounded in double figures for all 3 games Hampton played against the elite competition in Des Moines. At the conclusion of his career, Dan held 6 individual school records for basketball- individual season scoring average, individual season rebounding (actually the top 2 season totals are his), season field goal %, most rebounds in one game, career scoring, and career rebounding. Dan went on to play college basketball at Wartburg College. Dan and his wife, Becky, have 2 children and 1 grandson. They live in the Des Moines area. Dan recently his celebrated his 20th anniversary with Principal Financial, working as a Senior Case Coordinator in the life insurance division. Once and still our "Man in the Middle",
Katherine (Hadley) Harr, a 1992 graduate. Katherine played 3 sports and earned 10 letters at Hampton High. In her volleyball career, she was chosen all conference twice, including 1st team recognition in 1991. She was voted 1st team all conference twice in softball and held the school home run record for 23 years. Katherine was a 4-year starter in girl's basketball, led her team to the state tournament twice, and was voted on to the 1992 all tourney team. Hampton finished as the state runner-up in that tourney, losing only in the state finals to finish 27-1. She was selected first team all state in 1992, played in 2 all-star games that spring, and finished her career as the third leading scorer in the 6 on 6 history of the school. Katherine continued her basketball career at NIACC and led her team to the national tournament in 1994. She was named a first team JUCO all American basketball player that season. In 2018 Katherine was named as a NIACC Top 100 year Honoree for her outstanding career there. Katherine and her husband, Ryan Harr, are living in Hampton with their 3 sons. She is teacher in the Hampton-Dumont School system and has coached during her time here
Sondra excelled in both track and basketball during her high school career. She earned 7 varsity letters in the 2 sports. In her basketball career, she was a force on the defensive end of the court, playing guard in the 6 on 6 format. She was named all conference several times, including unanimous 1st team status after her senior season. Sondra earned 3rd team all state recognition following her junior season and 1st team all state honors at the end of her senior season. She played in the girls state tourney in 1974 and 1975, and also played in the East vs. West all-star game in 1976. Sondra ran on NCC and district championship track teams during her career in that sport. In her junior track season, she won 4 gold medals at the district meet- first in the 220 and 440 races and first on 2 relays. She placed second in the 440 dash at the state meet in 1976. At the conclusion of her career, she held the school record in the 440 plus was a member of 4 relay teams that held school records. Sondra went to William Penn and played both basketball and ran track there until a knee injury ended her collegiate career. Today, Sondra lives in Grove, Oklahoma, with her husband, Rich. They have 2 sons. She continues her career as a sign language interpreter there.
The first coach to be inducted into the Bulldog Hall of Fame is Bill Hand. Bill and his wife, Shirley, arrived in Hampton in 1961. He served as a science teacher and coach here, and continued to coach Bulldog teams until 1986, a 25-year coaching career. Bill restarted the girls basketball program here in the 1961-62 season and also was the first coach for the girls track, girls golf, boys cross country and girls cross country teams- quite an accomplishment to start 4 different programs. Bill coached Bulldog baseball for 22 seasons, starting in 1965. His baseball teams won 3 conference titles and finished 2nd or 3rd in the conference eight other times. Bill coached 2 all-state baseball players, Jeff Rodemeyer and Dave Schulz, and also coached all 4 of his sons: Lon, Doug, Scott, and Kevin. In 1971, his girl's basketball team went to the state tournament and in 1973, his girl's track team won the state indoor meet title. Bill Hand is a member of the Iowa High School Baseball Coaches Hall of Fame
Jessica (Mennen) Rettig is being inducted into the Hall of Fame. She is a 2000 graduate of Hampton-Dumont High School. Jessica is one of the most decorated all around athletes in school history. She earned 14 varsity letters in her 4 sports career. In track, she was a 4 time state qualifier. In volleyball, she was chosen 1st team all conference twice, and 2nd team all NCC once. She also received all state recognition in volleyball after her junior and senior seasons. In basketball, Jessica was named 1st team all conference 3 times and 2nd team once. She was selected 1st team all state in basketball 2 times and 2nd team all state once. She led the Bulldogs to the state tourney twice in basketball and at the end of her career she held the 5 on 5 school records for career scoring (1710 points) and career rebounds (886). Jessica went on to play basketball at Wartburg College, where she lettered 4 times and was selected to the all Iowa Conference squads 3 times. She was 1st team all region for the Knights in 2004. Wartburg won 3 conference titles during her career and advanced to the Elite Eight in the NCAA tourney. Jessica was inducted into the Wartburg Athletic Hall of Fame in 2014. Jessica and her husband, Taylor, live in Cedar Falls with their 3 children. She works as an exercise physiologist in the cardiac rehab department at Allen Hospital in Waterloo.